Southwire Announces Launch Of Romex® Brand Simpull® Nm B Pcs Duo™ Cable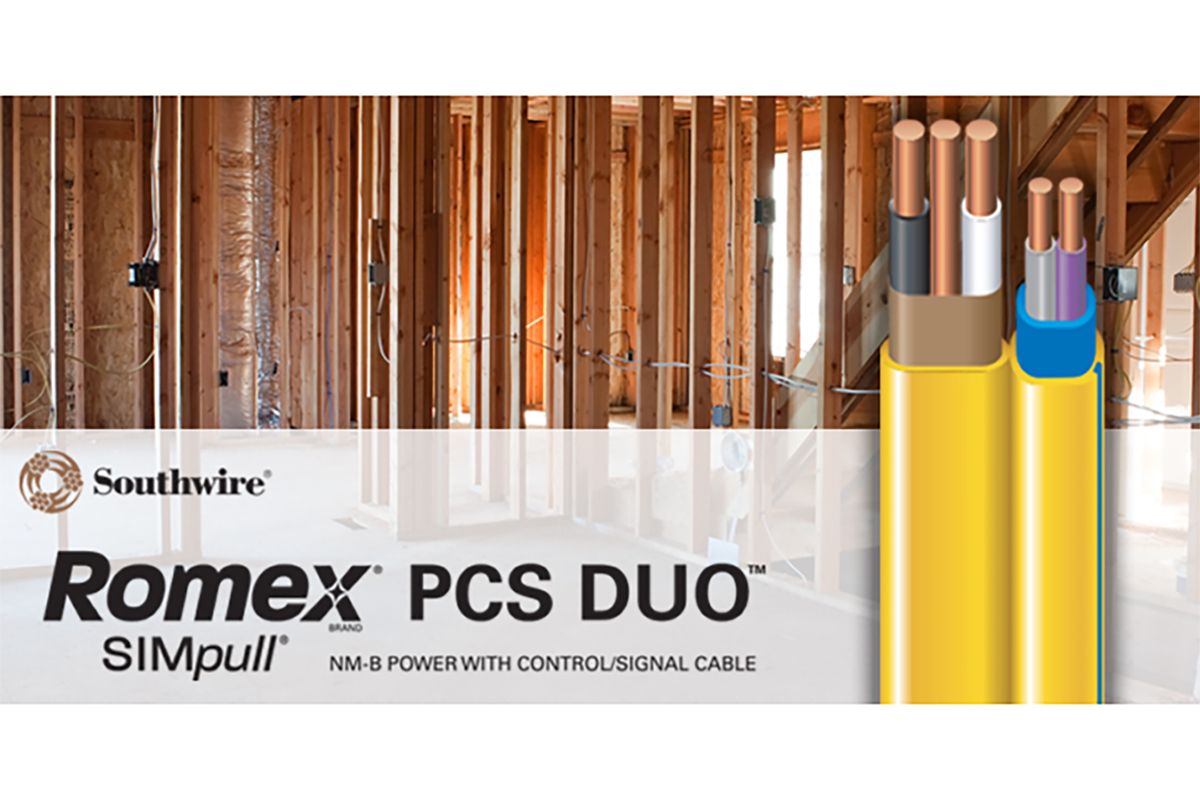 Southwire is pleased to announce the launch of Romex® Brand SIMpull® NM-B-PCS Duo™ Cable – a cable that combines power conductors along with control/signal cables all under one jacket. Coupled with the SIMpull® cable jacket, this winning combination saves time and reduces installation costs – when compared to traditional installations of two cables – all while helping to make pulls safer and more efficient. This great new product is ideal for use with LED or fluorescent dimming controls and SMART homes.

"We are committed to making contractor's lives easier, and the Romex® Brand SIMpull® NM-B-PCS Duo™ Cable is an excellent addition to our suite of products," stated Carol Godfrey, the SVP of Construction Marketing & Products. "As we look into the future, we will continue to develop products that help contractors save time, mitigate potential safety risks, reduce jobsite waste, and make crews more effective."Romex® Brand SIMpull® NM-B-PCS Duo™ Cable is the all-in-one cable UL listed wiring solution to connect 0-10V dimmable LED and fluorescent lighting fixtures to 0-10V dimmers and switches. Romex® Brand SIMpull® NM-B-PCS Duo™ Cable is clearly labeled as a power and control/signal cable and features a continuous stripe on the outer jacket for easy identification.

"We are excited about the benefits this innovative product brings to the electrical contractor," stated Cody Smith, Product Manager. "With 0-10v dimming and automation installations increasing, so does the need for products that both save time and make the contractor's job easier."

The dimming signal input to the LED driver is typically supplied through a purple wire (+10VDC) and a gray wire (Signal Common). The individual purple and gray conductors of the control/signal component of the Romex® Brand SIMpull® NM-B-PCS Duo™ Cable match this color convention to ensure the polarity of control wiring is maintained throughout the lighting system for proper operation.
CAUTION: Do not use the control/signal component to make connections to 120V AC line voltage. 
Features:
Designed for easier pulling, resulting in easier installation
Manufactured as 2 or 3 insulated copper power conductors with a bare ground wire plus a control/signal component for installation as a Class 2 or 3 circuit
Color coded PVC jacket with SIMpull® Technology
Voltage rating for NM-B-PCS cable is 600 volts
Compliant with NEC articles 334 (NM Cable) and the Class 2/Class 3 circuit separation requirements of NEC 725.136(I)(1) and 725.136(I)(2)
Listed per UL Standard 719
Benefits:
For use in one and two-family dwellings
For use in multi-family dwellings where type NM-B cable is allowed by NEC
Can be installed behind walls or in ceiling
Reduces installation cost when compared to pulling separate power and control/signal cables
All cables under one jacket decreases the likelihood of damage
SIMpull® cable jacket allows for easier pulling
Conductors identification is printed directly on the jacket
For more information, please contact
BWproductteam@southwire.com
. For more information about Southwire's products, stay tuned to
southwireblog.com
.
©2018 Southwire Company, LLC.  All Rights Reserved