Southwire Receives Inaugural Energy Matters Award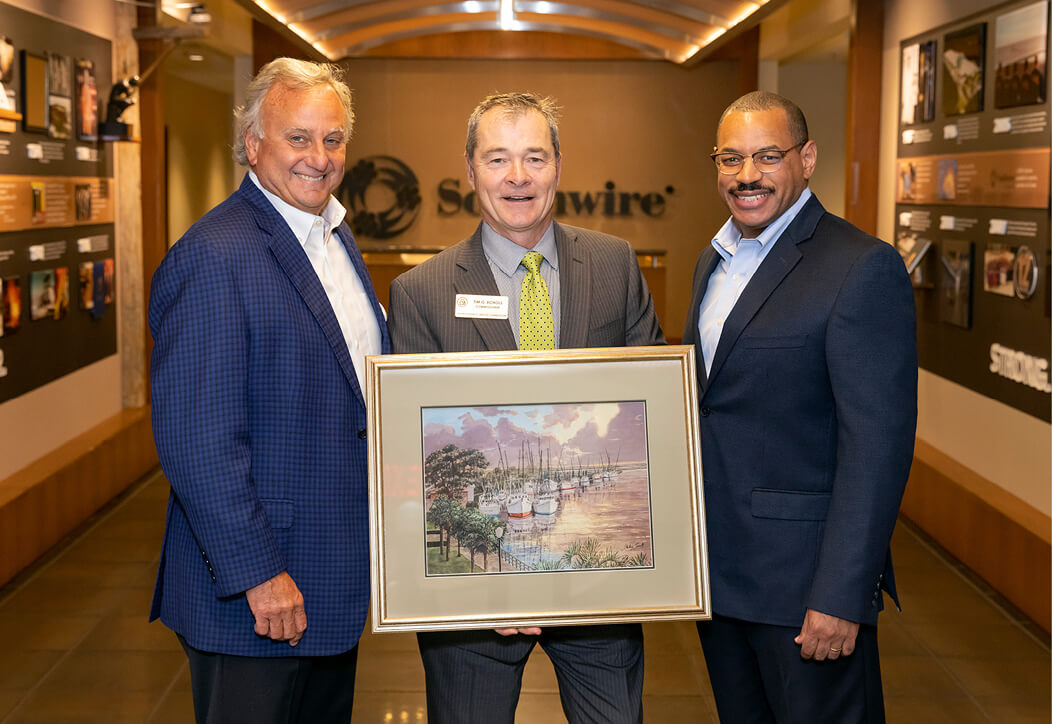 On Tuesday, July 12, Southwire was presented with the inaugural Energy Matters Award for Best Sustainability by a Large Company by Tim Echols, vice chairman of the Georgia Public Service Commission (PSC).   
"At Southwire, we continue to build on our commitment to environmental stewardship by supporting the wellbeing of our communities and environment and this award is a testament to those efforts," said Rich Stinson, Southwire's president and CEO. "We're honored to receive this recognition, and we are proud that our work continues to build a stronger and more sustainable Southwire."   
Some of Southwire's recent successes that have contributed to receiving this award include its commitment to being a founding member of the Drawdown Georgia Business Compact; participation in Georgia Power's Customer Renewal Supply Program (CRSP); the construction of its new Copper Rod Plant that utilizes 100% renewable electricity; the installation of a solar canopy, solar-powered picnic tables and electric vehicle charging stations at its corporate headquarters; and incorporation of sustainability-linked pricing into its $1 billion asset based loan facility.  
"Southwire is honored to receive the Energy Matters Award for Best Sustainability by a Large Company, and we are encouraged that our sustainable efforts have been recognized by the Georgia PSC," said Burt Fealing, Southwire's executive vice president, general counsel and chief sustainability officer. "We are proud of our accomplishments thus far and will continue to strive to fully incorporate sustainability into our strategic business objectives and culture." 
In July 2020, Southwire announced its Carbon Zero goal to eliminate or offset all of the company's Scope 1 – associated with fuel combustion – and Scope 2 – associated with electricity consumption – greenhouse gas emissions by 2025. These efforts also contributed to the company's recognition for this award.   
"Southwire has demonstrated great leadership by setting a 100% carbon zero goal for its operations by 2025," said Commissioner Echols. "We're proud to acknowledge the company's commitment to sustainability, which serves as an inspiration to others. It will be the collective efforts of the PSC and businesses like Southwire that move Georgia forward." 
To learn more about Southwire's commitment to sustainability, visit
www.southwire.com/sustainability
. For more Southwire news, visit
www.southwire.com/newsroom
.