Southwire's El Paso Facility Puts An Emphasis On Breast Cancer Awareness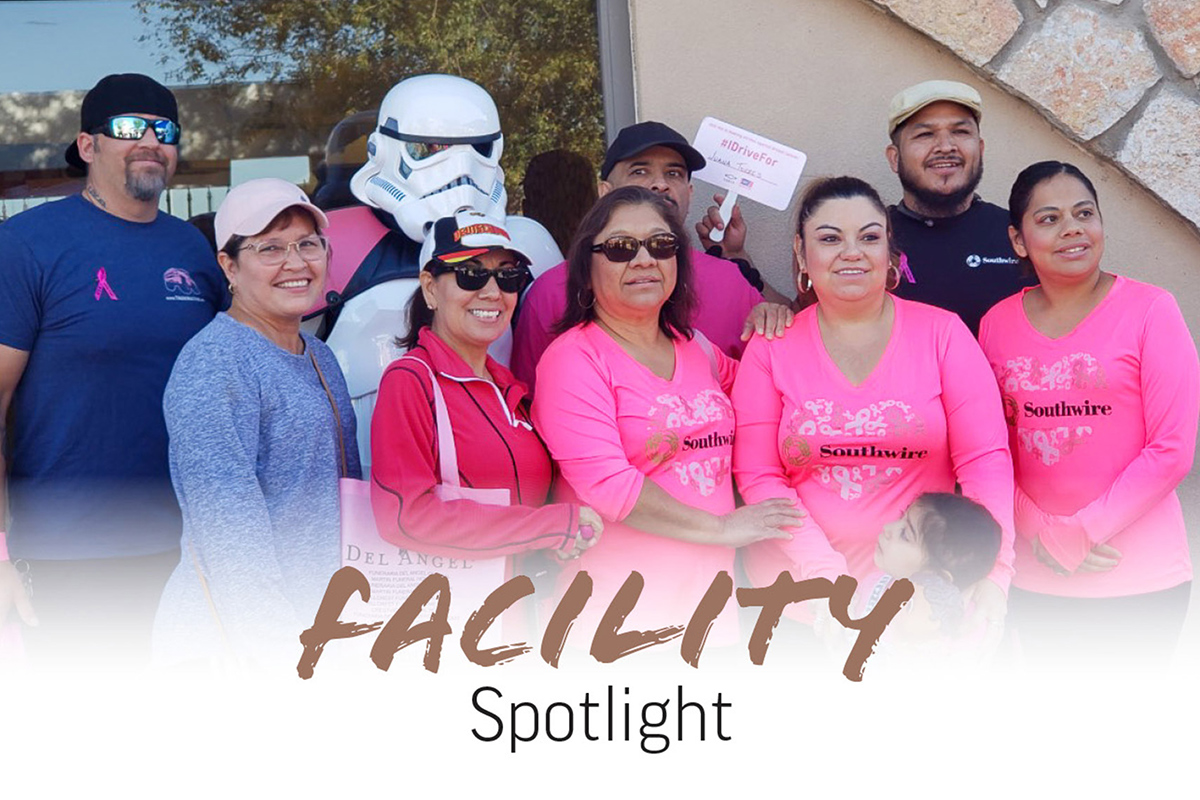 Southwire's facility in El Paso, Texas, is emphasizing the importance of breast cancer awareness throughout the month of October.

Their initiative for this important topic has taken a threefold approach – meeting as Employee Resource Groups (ERGs), coming together as a facility and volunteering with Project GIFT®.

As October is National Breast Cancer Awareness Month, El Paso's Women's Network, one of Southwire's ERGs, decided it was the perfect time to discuss this critical subject. At the beginning of the month, more than 20 of the group's members met at a coffee break meeting to raise awareness by sharing personal stories, talking about the evolution of the disease and discussing possible preventive measures.

Women's Network Champion Hugo Vela, manufacturing manager, said this meeting was important to have because Southwire cares about its employees' well-being and wants them to know they have support in their workplace.

"There are so many people affected by this disease, so we are shedding light on it because we want our employees to know we care about both their personal health and the health of their loved ones," Vela said. "We want them to know they have a shoulder to lean on." At the meeting, all participants received pink shirts featuring pink ribbons in the shape of a heart with the Women's Network and Southwire logos. Leida Antunez, sales manager and Women's Network member, said they are encouraging the members and all other employees at the Plant to wear pink every Wednesday throughout the month of October to raise awareness.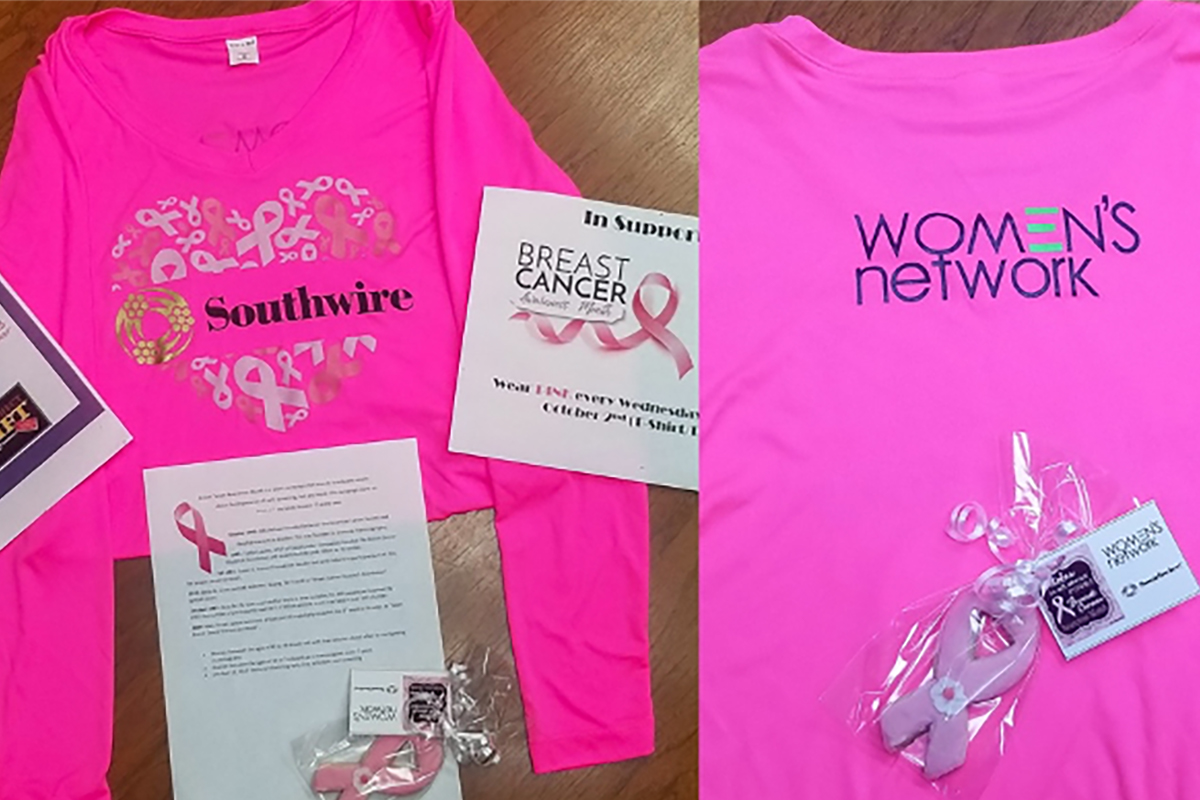 "We opened this up to everyone by posting flyers, and we've seen a really great turnout from both men and women throughout the facility," Antunez said. "We all know people who have been affected by this disease, so by wearing pink every Wednesday, we are coming together as one to show our support."
 
Additionally, on Oct. 19, Project GIFT Blackshirt Volunteers from El Paso participated for the eighth year in a row at the Making Strides Against Breast Cancer 5k Walk. Southwire also donated $500 to the organization.

According to its website, Making Strides Against Breast Cancer is a national fundraiser supported by the American Cancer Society. Its goal is to unite communities in the fight against this disease by raising money to support breast cancer patients, survivors and caregivers through every step of their experience. So far this year, they have raised more than $38,000 of their $95,000 goal.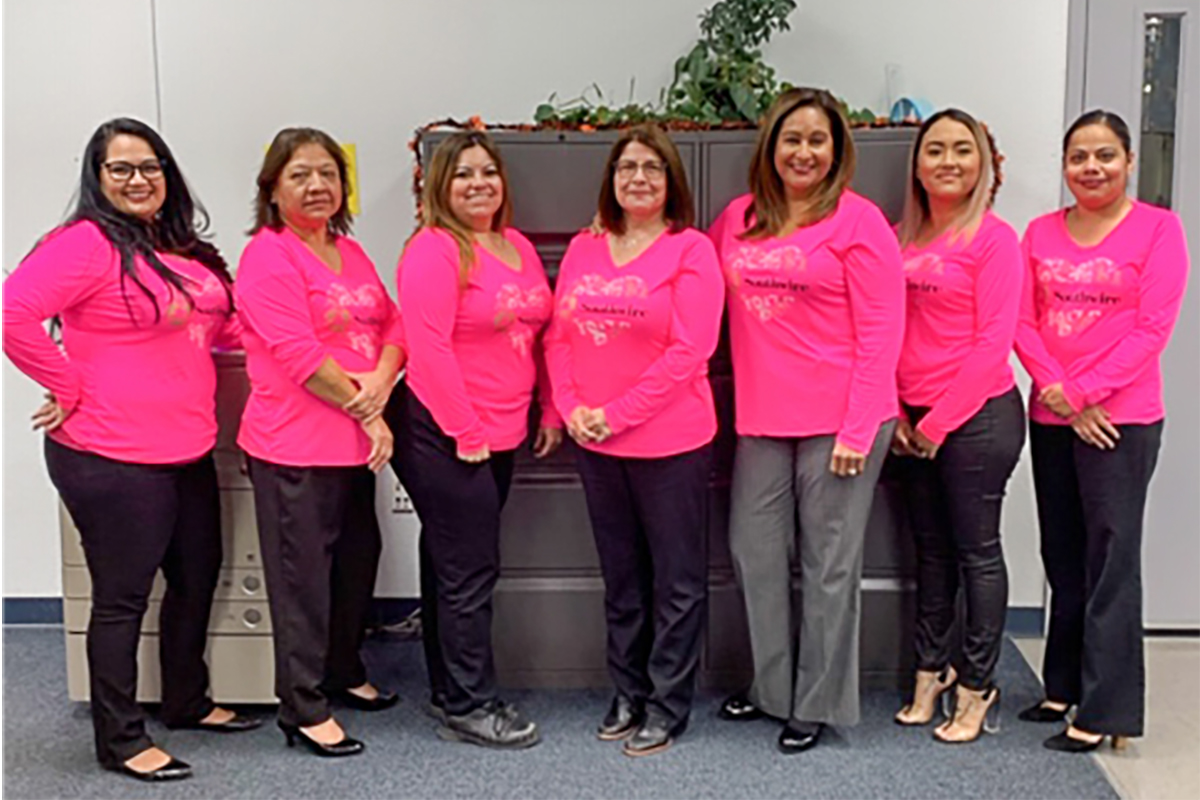 Maria Hernandez, account manager, said her favorite part about the event was hearing speeches given by cancer survivors. Prior to the run, survivors stood up and talked about how much this event meant to them and to finding a cure.

"This has a very personal connection to me because my sister actually passed away from cancer," Hernandez said. "Hearing the survivors' stories, what they are going through and what the support means to them really hits home for me. I'm so happy Southwire supports a cause so close to my heart."

Hernandez was not the only Southwire employee who had a personal connection to this event. One Southwire employee, Eduardo Franco, attended with his sister, Lucy, who is currently battling breast cancer. All the Blackshirt volunteers walked with Lucy during the event to show their encouragement.
Franco said he has always supported this event in the past, but, this year, it felt more personal. Lucy was diagnosed with breast cancer in April and has been battling it for the past few months. Franco and his family thought it was important to include Lucy in the walk this year to show their support and encouragement for her in fighting this disease.

"It was important for Lucy to come with us this year," Franco said. "Her husband actually passed away two years ago from cancer, so she is a single mother now to her 17-year-old son. She's been through so much, and it can be easy to feel like giving up. By bringing her to this event, we were able to show her what survivors look like and that she can be one too."
Franco said that he and his family are very grateful for everything Southwire does to support this cause and hopes the support continues for years to come.

To learn more about Southwire's commitment to Giving Back in its communities, "Like" the Southwire Community Facebook page or visit our annual Sustainability Report here: http://southwiresustainability.com/giving-back/.